---
Home | About Us | Entabeni Gardens | Photos | Reservations | Directions | Contact Us
---
Tour Tropical Paradise on Maui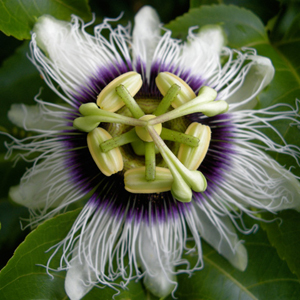 Entabeni Gardens is a tropical oasis in paradise.
Tour our exquisite collection of 400 varieties of tropical and sub-tropical plants, including 270 botanically-labeled plants with family, genus, species, provenance, and common name.
Entabeni's collection of exotic and tropical plants, including more than 38 varieties of palms, is presented in a gardenesque environment with lawns and pathways leading through rooms of plantings and majestic vistas overlooking the Pacific Ocean on one side and the eastern ridge of Haleakala (Hawaii's "House of the Sun") on the mauka (mountain) side.
When driving Maui's world-famous "Road to Hana," stop and enjoy a tour of Entabeni Gardens any weekday from 9 a.m. to 2 p.m.
Choose a self-guided tour and stroll on your own or enjoy a guided tour. Our passionate and informed tour guides will answer your questions and provide information about our extraordinary variety of tropical and sub-tropical plants and flowers. (See dozens of photos.)
Ask for our "Green Living Tour" and your guide will show you how we've created a sustainable, "off the grid" living environment at Entabeni with electricity from the sun, water from the rain, and food from the land.
Entabeni Gardens is located in Nahiku on the north shore of Maui about 90 minutes (36 miles) east of Kahului Airport and about 25 minutes (8 miles) northwest of Hana. (See driving directions.)
In addition to guided and self-guided tours, we provide a restroom, refreshments, art, and vacation rental accommodations (when available). See EntabeniCottage.com in a new tab or window.
Mahalo (thank you) for browsing EntabeniGardens.com. Please visit or contact us for more information.
- Michael and Terry Kristiansen
Entabeni Farm, Entabeni Gardens, Entabeni Cottage
Nahiku, Maui, Hawaii

---
Home | About Us | Entabeni Gardens | Photos | Reservations | Directions | Contact Us
---
Web: EntabeniGardens.com

© 2020. All rights reserved.

E-Mail: info@EntabeniGardens.com

Telephone: 1-808-248-7600