---
Home | About Us | Entabeni Gardens | Photos | Reservations | Directions | Contact Us
---
About Us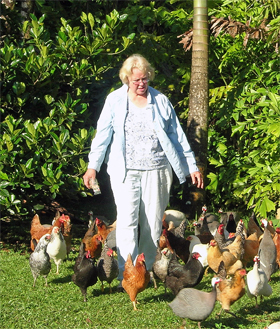 Entabeni Gardens, featuring hundreds of varieties of tropical and sub-tropical plants, is part of Entabeni Farm overlooking a wide expanse of the Pacific Ocean on the north shore of the Hawaiian island of Maui above the world famous "Road to Hana."
In the Zulu language in South Africa, entabeni means "the place on the hill with a view."
Michael and Terry Kristiansen created Entabeni Gardens in the tropical rain forest of East Maui after landscaping beautiful gardens for 50 years on three continents.
Michael Kristiansen is past director of the Honolulu Botanical Gardens, a mentor teacher in gardening and horticulture programs at UCLA Extension and the LA Unified School District, and shares his passion for creating another beautiful garden - this time for YOU to enjoy on Maui.
Michael is also co-author of, "Ethnic Culinary Herbs, A Guide to Identification and Cultivation in Hawai'i."
Terry Kristiansen is pictured to the right surrounded by chickens and guineafowl. Guineafowl are ground-nesting birds that eat insects and seeds. Young guineafowl are called "keets."
Michael and Terry Kristiansen offer guided tours of Entabeni Gardens, an oasis in paradise. Experience a little piece of heaven on the north shore of Maui above the "Road to Hana."
Michael and Terry are also the hosts for Entabeni Cottage, a clean, private, fully-equipped permitted B&B (vacation home rental) on the same gorgeous property. See EntabeniCottage.com in a new tab or window.

---
Home | About Us | Entabeni Gardens | Photos | Reservations | Directions | Contact Us
---
Web: EntabeniGardens.com/about.html

© 2022. All rights reserved.

E-Mail: info@EntabeniGardens.com

Telephone: 1-808-248-7600