---
Home | About Us | Entabeni Gardens | Photos | Reservations | Directions | Contact Us
---
Entabeni Gardens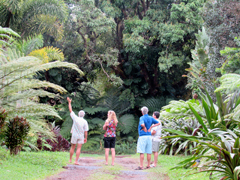 Tour Entabeni Gardens above the "Road to Hana" on the north shore of the Hawaiian Island of Maui.
See and learn about 400 varieties of exotic and tropical plants.
Weekday Tours:
Guided tours are available Monday - Friday from 9 a.m. to 3 p.m., weather permitting. Reservations are optional.
Guided tours of Entabeni Gardens usually last about one hour, depending on how many questions you ask, but you're welcome to relax and enjoy Entabeni Gardens til 3 p.m. regardless of when your tour begins, or until 3:30 p.m., if your tour starts at 2 p.m.
See detailed driving directions to Entabeni Gardens.
Pricing, Provisions and Parking:
Guided tours of Entabeni Gardens are $25 per person (including tax). Groups of 6 or more are $20 per person (including tax). See our Reservations page for more about payments.
Children under 16 years of age are welcome free of charge. Entabeni Gardens is eco-friendly (read about our "Green Living Tour" below) and family-friendly.
We recommend wearing good footwear for grass, gravel pathways, stepping stones, and occasional mud.
We have enough parking spaces for eight cars at any one time or four cars and a small tourist bus.
We provide a restroom, refreshments, art studio, gift items, and (when available) accommodations at Entabeni Cottage.
We provide umbrellas when it rains here in the tropical rainforest of Nahiku, Maui, Hawaii. We love rain. Rain provides water for our drinking, cooking, washing, and landscaping. Plus, of course, "No rain, no rainbows!"
Fine, Furry and Feathered Friends:
Our animals know who they are and are well behaved. Our cats accompany most tours of Entabeni Gardens. They play and wrestle with one another, run up and down palm trees, and relax on garden furniture. Our guineafowl forage for insects and ripe seeds, sometimes stopping to observe human activity. When not scratching around, our chickens line up at the fence and wait for attention.
Green Living Tour:
Ask about our "Green Living Tour" (no additional charge). We've created a sustainable, eco-friendly, off-the-grid living environment and we're happy to show you how we do it.
Electricity, water, sewer, and waste disposal services are not provided in this part of Maui. As a result, we're responsible for providing these services on our own.
Power: Our electricity comes from a large array of solar panels connected to a series of batteries.

Communications: Although we have a landline telephone and an Internet connection from a satellite dish, most cell phone services do not work in this remote area of Maui.
Water: Healthy, delicious water is drawn from a large rain catchment with a quadruple filtration system.
Food: We grow fruits and vegetables both on our farm ground and inside our 1,200 square foot greenhouse. We make nutrient rich soil from composting. Our free-range chickens provide farm fresh eggs. Food we gather from our land feeds our family and others who live on our farm. Surplus produce is sold at the Farmers' Market in nearby Hana for both the local community and visitors.
Sustainability: The back of our property borders the EMI Water Conservation District. The East Maui Watershed Partnership (EMWP) is an environmental effort between federal, state and private landowners to preserve Maui's native tropical rain forest.
WWOOFers:
Some of our tours are led by WWOOFers who are well trained, highly knowledgeable and entertaining. They're passionate, educated, and happy to tell you about the plants and flowers at Entabeni Gardens.
Entabeni Farm hosts WWOOFers for three month periods. WWOOF refers to World Wide Opportunities for Organic Farms. See wwoof.net for information about the WWOOfer program.
♦ ♦ ♦
Experience the peaceful tranquility of Maui's tropical rainforest and Entabeni's aloha ho'okipa (hospitality).
Tour Entabeni Gardens in Nahiku, Maui, Hawaii above the "Road to Hana."

---
Home | About Us | Entabeni Gardens | Photos | Reservations | Directions | Contact Us
---
Web: EntabeniGardens.com/entabeni-gardens.html

© 2021. All rights reserved.

E-Mail: info@EntabeniGardens.com

Telephone: 1-808-248-7600